SKELETON PRODUCTION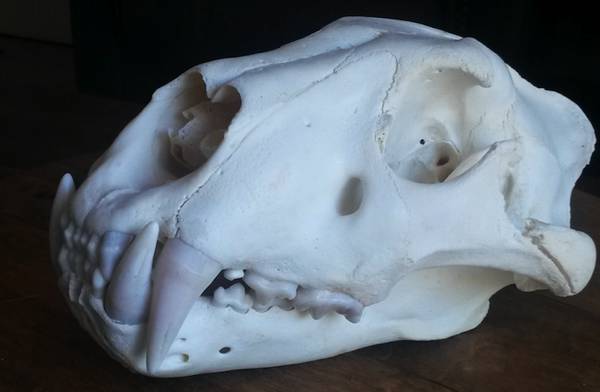 This service relates to the production of skeletons from a fresh carcass to a final skeleton. The service includes:
Slaughtering and cleaning of the carcass
Maceration
Degreasing of the skeletal matter
Bleaching and sterilising
Final assembly
Optional:
Skeleton stand construction according to client specifications
Transport – collection and delivery
(Note: Carcass supplied by client)
SKELETON CLONES
This service relates to replicating a skeleton or skull according to customer specification.
Background
The clones are produced by developing a mould from the relevant skeleton and subsequently casting the skeleton using epoxy or other synthetic resin combinations. The replicas are manufactured according to customer specification using a range of material options to accommodate specific applications. An example is where decorative skeletons are utilised in aquariums and fish tanks where natural bone will eventually succumb to corrosion and degradation. A replica is developed using a specialised epoxy (as example), resulting in a robust final product that is unaffected by microbial activity.
Advantages of clones over bones
Trade:
No international or local trade restrictions apply when considering trading replica's produced from synthetic materials. This is in stark contrast to trade in natural bone/skeletons.
Material of construction:
The materials used are typically inert, safe and non-corrosive.
Freedom/flexibility according to customer need:
Replicas may be produced according to customer demand, e.g. a pink cheetah skull could be produced; or a skull that is less dense than water, i.e. float on water.
CONSULTING SERVICES
This includes consultations to game reserves, zoos and aquariums on a number of topics, including the following:
- Carcass processing techniques for different animal species, including:
Mammals (large and small)
Birds
Reptiles
Fish
- Skeleton construction techniques
- Replicating a skeleton - cloning
PRESENTATIONS/WORKSHOPS
- Presentations to academic or private institutions relating to:
Skeleton construction methodology
Skeletons and animal movement
Moulding and skeleton cloning
The RKS story
Skeleton adaptations of different animal species.